WiFi Mesh Camera
Time Lapse Photos are taken on a schedule, typically every 15 minutes during work hours.
You can view the live stream from the available App.
We will turn the photo collection into a time lapse video at the end of the project.
Motion-activated video recording (with audio) is stored on the camera's internal 64GB card – up to 10 days of video is kept at a time.
Photos are 2560 x 1440 (4.0Megapixel)
Weatherproof for Indoor / Outdoor use
Just needs AC power attached to the included 25' cord.
Versatile Mounting options:  Wall Mount / Window Mount
Clamp Mount to a 2" pipe or beam / Strap around a large duct or pole

Jobsite WiFi
The cameras also act as WiFi hotspots for the jobsite which broadcasts your existing Internet service.
WiFi Mesh works between floors with the ability to cover your entire jobsite with Internet service. Typically two cameras per floor will provide adequate WiFi coverage.
Rooftop Solar Camera
Fixed camera with 4x Zoom (best for Time Lapse)
Optional PTZ camera with 4x Zoom (best for looking around the jobsite)
We have deployed these using a focused WiFi antenna to beam a signal from a nearby jobsite trailer or office for Internet service.
One system can support up to three cameras on the roof.
System powers down at night to save battery
No roof penetration (we use weights to hold it down)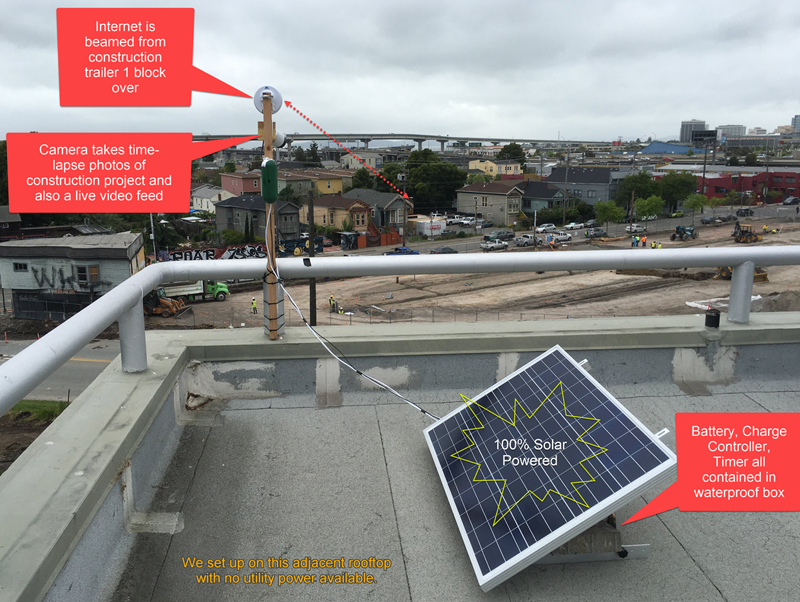 Security Cameras
All of our cameras can act as Security Cameras in addition to Time Lapse.  While Time Lapse is focused on still images, Security requires full motion video recordings.  The camera's onboard card will hold up to 10 days of video footage but for a true security system with up to a month of storage, you will need a Network Video Recorder (NVR) on site.  This should be located in a secure location at the site.